July, 2011
2010 flew by: it was the year we made our 3rd CD LUCKY LIFE, produced by Lloyd Maines, engineered by Layton DePenning at Elmo's Lab, Buda (www.elmoslab.com) and mastered in Nashville by Bob Olhsson Audio Mastery. Above all, we send love and thanks to our generous friends and fans who participated in the pre-sale of Lucky Life–you made this happen!
We had the most amazing and wonderful time working with Lloyd and Layton-no stress, no worries, just the joy of collaboration and off-the-cuff creativity. Lloyd is the master of just about any instrument he lays hands on, surprising us again and again on Lucky Life. We hunkered down at Layton's state of the art studio for the first few months of the year, then started showing Lucky Life off! We can't thank Eddie Cantu enough for his brilliant work! Between promotion, writing, booking, rehearsing and trying to survive the heat, drought and economy, we continue to expand our territory, both on the radio and the road. Huge thanks to McGonigel's Mucky Duck, The Bugle Boy, Saxon Pub, Cypress Creek Cafe, and counting for great CD releases! Check the website for upcoming shows, and we hope to see you September 18, 10:30 a.m. at the Pink Ribbons Festival, Prairie View A&M after the race!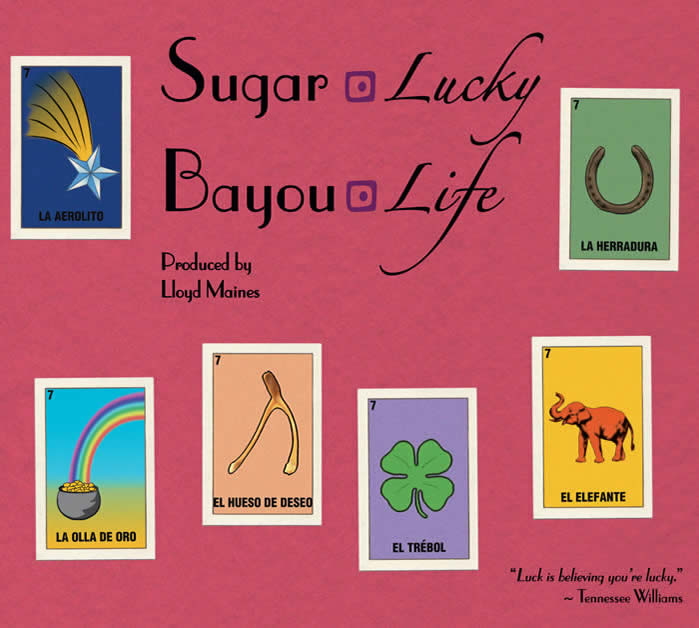 February, 2009
What's this, you ask? Our great friend Shawn sends these images from high atop a mountain in Afghanistan where, it would seem, our music is catching on!
Thank you, Shawn. Stay safe and get on back to Texas!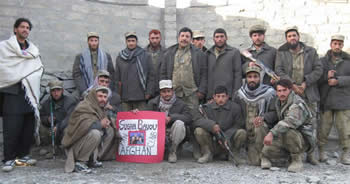 photo: Shawn Stewart
January, 2009: A sold-out show at the Bugle Boy in LaGrange! Many thanks to the Jewish Heritage Society, a fabulous group of folks who really know how to party!
We had a magnificent time at our Unitunes Concert in Houston, and send thanks to all our new fans. We look forward to seeing you March 5 at Anderson Fair in Houston, and down the line at the Mucky Duck!
November, 2007
Time flies, and then some. We released our second CD, "Dance Hall Incident" a month ago, and what a month!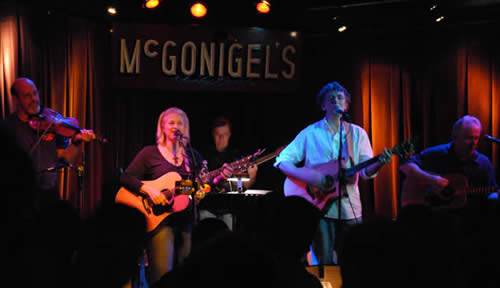 Love and gratitude to everyone who made their way to McGonigel's Mucky Duck (thank you with all our hearts, Rusty & Teresa), coming from Scotland, New England, California, Georgia and many other far-flung locales. Mike Thompson/Ivory Tower Realizations, producer extraordinaire, I can't imagine ever doing this without you! And to the gorgeous, brilliant, talented-beyond-belief musicians who played on the CD, you took us to a wonderous, ecstatic place:
Eddie Cantu, Mary Cutrufello, Floyd Domino, Paul English,
Kevin Hall, Kerry Jones, Freddy Steady Krc, Lloyd Maines,
John Mills, Michael Ramos & Mike Rieman, thank you!
Now, could ya'll just drop all your other commitments and join us full-time?
Victor Flatt, yes, of the Flatts, joins April for an a capella version of the traditional tune "Bold Riley." He sings like the angel he is.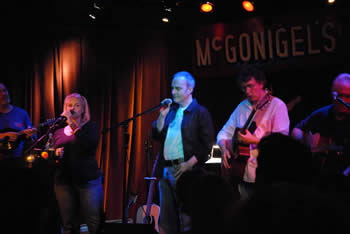 Photo: Charles Irvine
If you don't have "Dance Hall Incident" yet, get crackin', because I know you'll love it. And remember, the holidays are always right around the corner! Hats, t-shirts, Hatch posters and CDs. We have it all...
It was a great night, and now the work begins anew, publicizing the CD. Making a CD is a challenging and wild ride, but incredibly fun and satisfying at the end of the day. Addressing CD-sized bubble packs, not so much fun. But when radio stations email playlists from across the country saying they've been playing one cut or another from "Nowhere But Gone" and Dance Hall Incident", it proves the worth of the effort involved.
PLEASE mark your calendars: Tuesday, December 4, McGonigel's Mucky Duck presents "Noise For Toys"!!! Check their website for details, but we'll be there for sure! And we'll be playing the Woodlands Waterway Arts Festival Saturday, November 17. Time TBA.
March, 2007
Thanks to our amazing fans and friends who came from far and away to Wimberley. I got to see friends old and dear, kids I've known since diapers all grown and gorgeous, and as a bonus, make new friends along the way. Cypress Creek Cafe is a great place–people dance, sing along, make out and appear to be having a spectacular time (Browder included–who knew he'd hop off the stage, guitar still blazing, and dance mid-song?).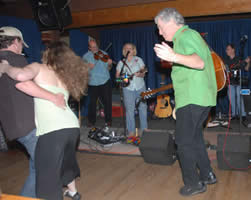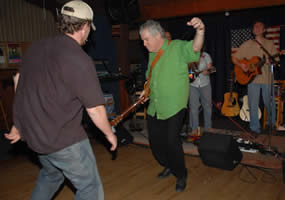 Live to dance, dance to live. Photo: Rose Proler
Cypress Creek Cafe, Wimberley, Memorial Day Weekend
As requested, we debut Sugar Bayou's new #1 groupies (a category of their own choosing). Uh-huh, I signed his chest. Beautiful, yes?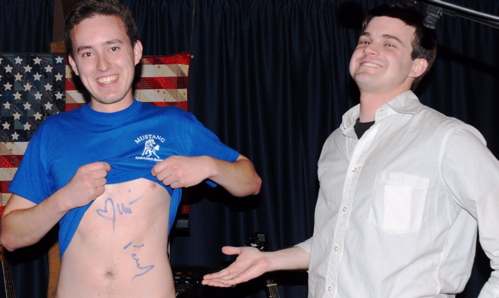 We sold out of our first run T-shirts (thanks, lovely La Grange Irish ladies!). The new "grrrlz only" sexy little red cap-sleeve numbers will be available soon. Order now: $15–small price to pay for the hottest T in 12 counties.
Saw Richard Thompson at the Crighton Theatre in Conroe last night, felt the same pure joy I remember from the Beatles concert at the Sam Houston Coliseum when I was in the 5th grade (my dad was sooooo cool–front row, center, both shows). Mr. Thompson, wherever you are, thank you.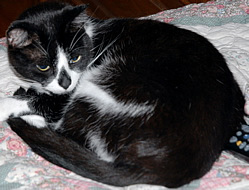 Max the band cat left life as we know way too young–he was a 5 year old with a bad ticker that just gave out one day last week. He never missed a rehearsal, never complained when the banjo got too loud, the accordion too shrill. May he fly through green fields forevermore.
January, 2007
What better way to spend the autumn than touring the great music venues in Texas? We had an amazing time, and want to thank everybody who came to see us. We also got to help host the HAAM KPFT radio show with Chris Collins and Mark Zeus.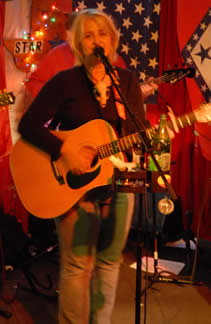 Old Quarter Acoustic Cafe
Photo: Myla Bertinot
We are incredibly grateful to play the Mucky Duck "Noise for Toys" benefit every year–it just seems to make the season right. So, in order to keep the spirit going, we worked with the Dallas Urban League to add another toy giving to our schedule. We had a great time playing Poor David's Pub; many thanks to our generous friends in Houston and Dallas (too numerous to mention individually, but our top benefactors, Dr. Paul Young and Jerry Pope, must be mentioned for their incredible generosity) for providing over $1000 in toys–enough to gift almost 200 deserving children before Christmas. We could not have done it without the help of our favorite firefighters at the S. Akard Street Fire Station and Cylton Ewell and the Dallas Urban League. It was an amazing morning–we drank hot chocolate, ate cookies and sang Christmas carols with a wonderful group of children, then handed out gifts. Kinda puts things in proper perspective...
Bill, Bob, April, John Roths and Paul at KEOS Radio Station, College Station
photo: Gary Mortensen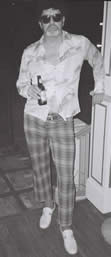 Do you recognize this–uh–dude?
He's known far and wide as Buck
Bowhard, but if you see him at bluegrass
festivals, you'll hear him called by another
name–Elvis.
Andy Moritz hit the road with Cadillac Sky–life's tough, huh? Congratulations from us all! So how do you replace such a great bass player? Robert Knetsch, that's how! Absolutely amazing, talented, great guy with a musical pedigree to match Bob's and Paul's–how lucky are we?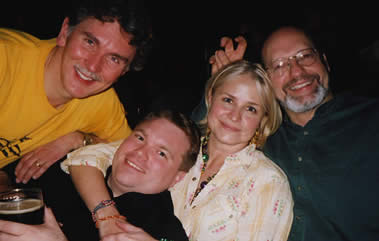 2006 at the Duck–photo: Inga Alanne
We want to tip our hats and say aloha to Cactus Music & Video–thanks for many years of incredible service to music lovers and players alike! We gave an in-store concert there in 2003–such generosity will live forever in our hearts. Soundwaves on Montrose is also a very groovy champion of local bands, and carries "Nowhere But Gone"–gratitude to another great hero of local music!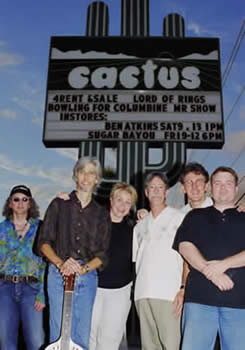 8-03 photo: Inga Alanne
August 1, 2006 at McGonigel's Mucky Duck, and yet another dream comes true: Austin's own guitar god Bill Browder was onstage playing with us. Not only that, his voice is amazing, and he threw down some spine-tingling third-part harmonies. Did anybody bring a camera?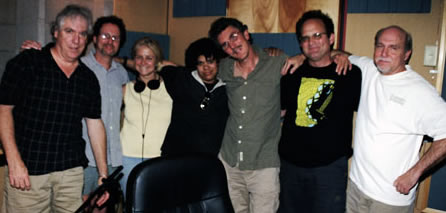 Bill Browder, Mike Rieman, April, Mary Cutrufello, Bob, Freddy Krc & Layton DePenning, Elmo's Lab, Buda
Photo: Trisha McWaters
I was looking through some old emails, and found this from Kerrville's awesome Dalis Allen, 2003:
April--
"My friend Peter Lott went by The Duck to buy a ticket for your show and Rusty told him it was sold out and if he showed up he would not get in..."
OK, so maybe I'm bragging just a little... But again wanted to thank everyone who keeps on coming to our shows. I'd like to ask a favor: we are having a tough time deciding what to put on the second CD, so if you read this, please email us with your suggestions. Thanks!
That was then, and we're still going strong, although the world has a way of changing. It is said that change is good, and I suppose that might be true, but we really miss Bob Minke, our beloved banjo player. Our loss is Florida's gain... If you read this, we hope you're having fun. Now, please come back! Or at least email: I have banjo capo questions that only you can answer.
On a much happier note, our most recent addition, Paul Kiteck, has brought musical wizardry and magical cohesiveness to SUGAR BAYOU. And he has a coterie of thong-chuckin' groupies that just won't quit... Come see why!
Bob and I spent the last half of 2005 writing, playing and woodshedding, tightening and defining the sound we feel makes us unique. I let my hair grow out. And they let me plug in my instruments now. Change is good.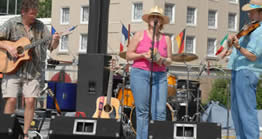 Jones Plaza, June '06 photo: Myla Bertinot
To paraphrase the soon-to-be-single Paul McCartney,
"Live a little, be a gypsy–get around
Get your butt up off the couch–live a little, go hear live music."
Life is short and uncertain, so stay up late, even on a school night if you have to, and support live music! Here's a cool thing to do on Friday nights: Cafe Rabelais Wine Bar (2462 Bolsover in the Village) hosts the inimitable Kelly Lancaster and Vladimir Kotsiouruba. Kelly, being the generous soul he is, lets his buddies sit in as the evening progresses. Paul, Bobby Nichols and I join him for some red-hot bluegrass pickin' and singing! You know it's good when Rick and Mary Gardner show up...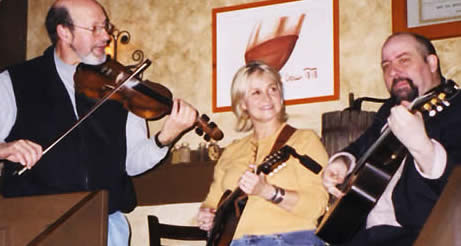 Paul, April & Kelly Lancaster, Cafe Rabelais photo: Inga Alanne
We played McGonigel's Mucky Duck last January and February (thanks to Mike Stroup and the Sunday Supper Sessions)–Rusty and Teresa keep asking us back, and the Duck is truly the best place anyone could hope to call home. Over the past few years, we have made occasional pilgrimages outside city limits, played at Anderson Fair, Hickory Hollow, SXSW Showcase at Threadgill's in Austin, the Kerrville Folk Festival and the National Folk Alliance Conference–the list goes on and on. Looking ahead, we have a Second Saturday Concert scheduled November 11, 2006 at the West University Place Community Center and a December 9 show at Cornbread's in La Porte–all while working with some amazing folks on our second CD, which we'll release at the Mucky Duck (naturally). Mary Cutrufello, long one of my musical heroes, flew down to Austin from Minnesota to play on several songs. And, for those who know our bass player and his glorious wife, Andy and Donna have a brand new baby girl–how does it get any better?
With peace in mind,
April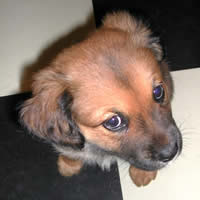 Sugar Bayou mascot Chloe
March, 2004: Greetings from Paradise—at least that's what it felt like to hear the title cut from our CD "Nowhere But Gone" on National Public Radio's Car Talk last weekend! Friends from near and far called Saturday morning after the segment aired to share the good news—quite an honor! Thanks to Tom, Ray, Doug, Dean David and the entire Department of Automusicology at Car Talk. "Put the top down on the T-Bird and we'll ride…"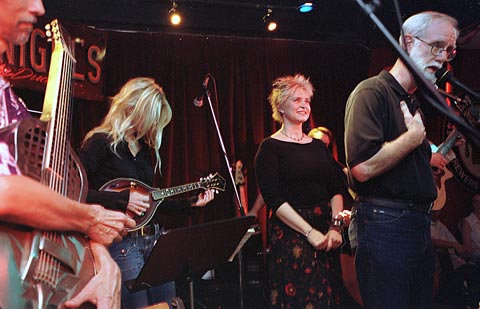 photo: Christobal Perez
Nowhere But Gone~
SUGAR BAYOU's CD release party at McGonigel's Mucky Duck, the Southwest's favorite music venue, was a wild & amazing success! The legendary Rick Gardner honored us with an introduction, and the completely sold out club –even SRO was gone days before the gig–rocked into the night as the audience was treated to one of the most exciting and diverse sounds in Texas music. April and Bob wove harmonies around each others' vocals, and were brilliantly supported by an all-star band of outrageously talented musicians–Shannon Cutts, Adam Cutts and Greg Harbar. Joe and Bob drew upon nearly thirty years of experience playing together, bouncing off each other's intricate, incredibly rich and innovative guitar sounds.