HISTORY
Nearly half a hundred dog years ago (unless you count Junior High Choir), Bob Oldreive and April Rapier started playing music together. Bob has a musical pedigree the size of the Big Bend (remember Dogtooth Violet?), a glorious voice to match, plays amazing and lush guitar, and writes exquisite songs that are destined to live forever. April sang before she walked, and carried on singing from Nashville to Nicaragua to Paris and back. Classically trained, she is categorized a dramatic soprano (referring to technical prowess, not personality disorder), with a sultry and versatile range. She has sung demos for some highly regarded songwriters coast to coast, played bars and restaurants all over Europe and Aspen, and was in a jug/funk group during her stay in Hawaii. They formed a band called Sugar Bayou with Joe Lindley, Andy Moritz and Robbie Parrish, and released their first CD, "Nowhere But Gone" in 2003. Adam Cutts (voted "Texas' Favorite Fiddler" two years running) and Shannon Cutts (exquisite mandolinista) performed with them more often than not, to everyone's great delight.
Forward to 2009–Sugar Bayou is Bob, April, the one and only Richard Bowden (well, there are two of them in this neck of the woods, but this Texas legend is the masterful and divine fiddler), bass phenom Robert Knetsch and guitar god/angel voice Bill Browder. Bob, Bill and April are writing and the band is at work on their third CD following the success of their first, "Nowhere But Gone" and their second, "Dance Hall Incident" (2007).
Sugar Bayou writes and plays eclectic acoustic Americana—joyful, complex, politically persuasive, socially compelling lyrics woven with powerful vocals and ethereal three-part harmonies. The impeccable instrumentation is infused with folk, bluegrass, jazz, blues and Cajun traditions (& a dose of Texas rockin' country).
But wait–there's more..
READ ON.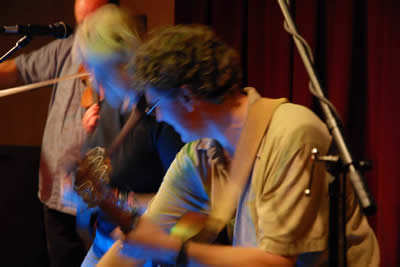 Photo: Hester+ Hardaway
The Dance Hall Incident
Lulu let fly with a fist full of gravel as the white walls of his baby blue Caddy squealed past Liberty Lunch. If her squirrel gun hadn't jammed, she would have settled things then and there.
In the first north winds of early September, cooler heads prevailed, and now she writes songs about him instead of going to jail.
Years later, a cicada summer evening found him hiding in hay loft after bedding the Patron's daughter. He sat down on the window sill as a drunken stupor settled over him, fired up a Cohibo––an ill-advised move, leaned back, fell out the window and got eaten by the hogs.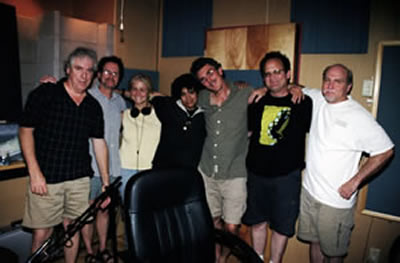 Photo: Roy Flukinger
Bill, Mike Rieman, April, Mary Cutrufello, Bob, Freddy Steady Krc
& Layton DePenning at Elmo's Lab, '05
"Dance Hall Incident" debuted at McGonigel's Mucky Duck
Friday, October 5 to a sold-out gang of rowdies, royalty and neer-do-wells. Had there ever been dancing at the Duck before that night? We think not. Co-produced by April Rapier, Bob Oldreive, Bill Browder and Mike Thompson/Ivory Tower Realizations, it was recorded in Buda, TX at Elmo's Lab. Layton DePenning engineered, Jerry Tubb at Terra Nova Digital in Austin mastered, and the CD, Sugar Bayou's second, features some of the finest musicians in the galaxy. That's right. The whole damn galaxy.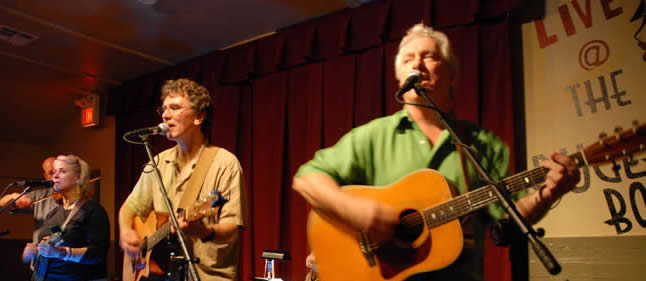 Photo: Hester + Hardaway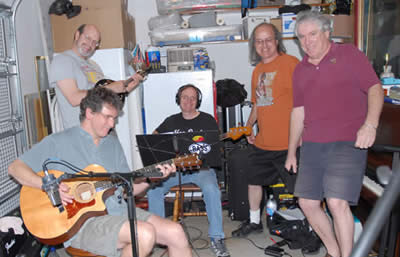 Elmo's Lab, May '07: Bob, Paul, Robert, Eddie Cantu and Bill
photo: Joel DePenning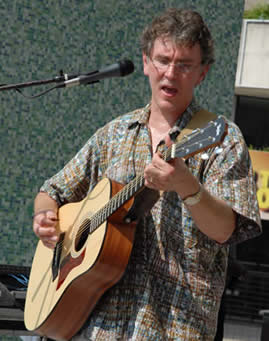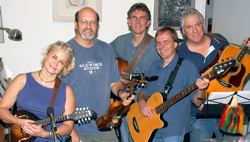 Photos: Myla Bertinot
In 1973, Bob and Joe formed Houston's seminal country rock band, Dogtooth Violet. Their high energy shows garnered both critical acclaim and a loyal following, and their record is a highly coveted collector's item. They opened for greats such as Willie Nelson, Merle Haggard and Waylon Jennings, and would regularly pack the Texas Opry House, Liberty Hall, Miller Outdoor Theater, the Sweetheart of Texas and Rockefeller's (to name a few). They continued to compose, perform and tour in various configurations and capacities.
Bob played with Hickory, the Bayou Rhythms and Caught in the Act, bands which toured the US. A prolific composer and lyricist, he started writing and performing with April toward the end of 2001.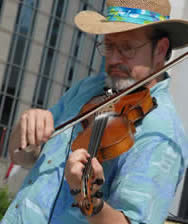 Photo: Myla Bertinot
April sang demos in Nashville and elsewhere for ten years, writing and performing in the US, Mexico, Central America and Europe. She plays guitar, mandolin, piano and spoons, and annoys her cats and dogs with incessant banjo and accordion practice. She was a photographer and artist, her work residing in major museum, private and corporate collections here and abroad. She is completing her first novel, and would be finished by now if she could figure out what to call it. And she still really misses Minke.
Photo: David Blue, a while back.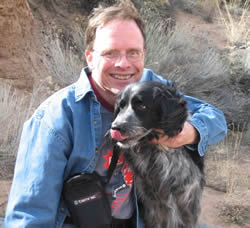 Beautiful Pearl, gone but not forgotten. RIP
Robert Knetsch has performed and recorded with numerous musical artists and ensembles representing a wide range of musical styles including jazz, classical, country, folk, rock and world music. In addition to bass/bass guitar he also plays drums/percussion, guitar and clarinet. Robert works from time to time as a CPA and lives in Houston (but we're trying to fix that).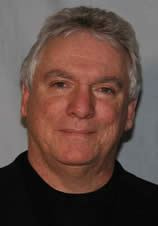 Bill Browder began playing professionally with the Four Dudes, a Houston–area Temptations knock-off band in 1969. He joined Denim in the summer of 1970, and they were signed by two major labels in the mid– to late 70s. After Denim disbanded in 1980, he played with The Austin All–Stars and Duck Soup. Denim reformed in 1990, and is still recording and performing today. Other acts that Bill plays with are The Big Time, The Heroes, and Sugar Bayou. At the age of 4, Bill took a nap in Jayne Mansfields' bed.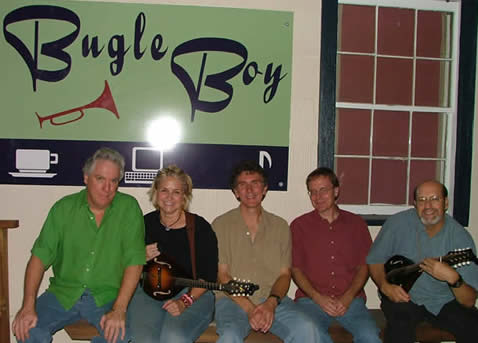 Bill, April, Bob, Robert & Paul at The Bugle Boy, LaGrange Photo: Myla Bertinot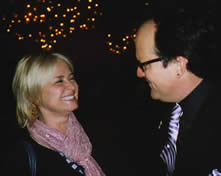 Last February at the International Folk Alliance Festival:
April (looking absurdly happy), Freddie Krc & Bob

April & Sedge Thompson, West Coast Live, San Francisco
photo: TL Lipner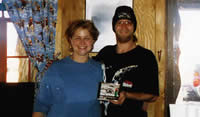 Marathon, TX radio DJ plays "Nowhere But Gone"
photo: Charles Irvine

Proud members of: Bay Area Bluegrass Association (BABA), Houston Folklore & Folk Music Society, BMI, Houston Association of Acoustic Musicians (HAAM), Just Plain Folk, CD Baby, Amazon, Orchard, Outbound, MyTexasMusic.com, Sonicbids and TAXI. Thanks to Soundwaves, Houston & Waterloo Records, Austin.